If you adore scrolling through the Instagram feeds of your favourite stars just as much as we do, then you'll agree when we say that the internet is filled with inspiration on how to take your look to the next level. There are some celebs, in particular, which have become known for their iconic styles, whether it may be extravagant outfits or signature makeup which makes their skin look like utter perfection. While these may take a little help from a personal glam team, there's one aspect of your look which couldn't be easier to recreate from the comfort of your home – your beautiful locks! So, to give you plenty of ideas to work on this weekend, we've put together just some of our favourite easy celebrity hairstyle – you'll be sure to recognise them!
5 Super Easy Celebrity Hairstyles
Whether you dream of walking the red carpet in Hollywood or adore the casual looks your style icons rock, you will never be short for inspiration when turning to the world of celebrities for support. Luckily, hairstyles are one of the easiest looks to recreate and with a little practice, you'll be sporting your new signature style in no time. Without further ado, let's take a closer look at the following: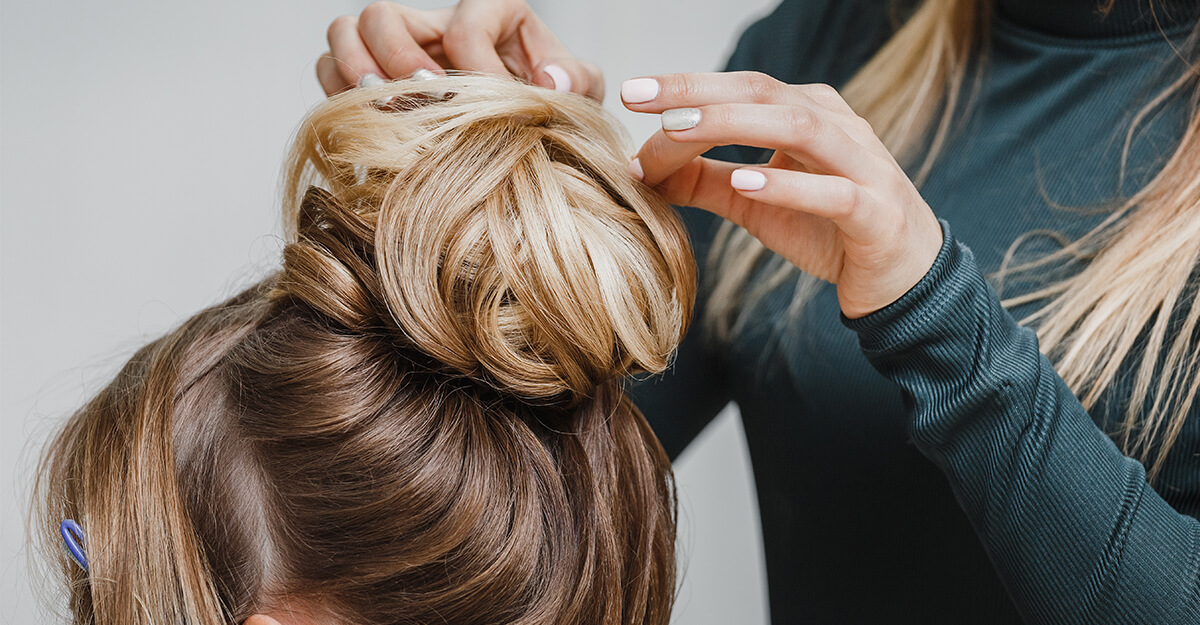 When we say signature hairstyle, the first person that comes to mind has to be Ariana Grande, so it's only fair that the queen of the high ponytail takes the top spot in our style guide. While we wouldn't recommend this as an everyday hairstyle as it will pull your hair pretty tight, there is no reason why you can't pair this with a cute outfit for your next cocktail date or picnic in the sunshine. So, how easy really is it to nail the super sleek, super long pony? Let's take a closer look at the steps:
Step One:
First things first, Ariana's look calls for the longest of rapunzel locks, so if your hair is a little on the short side, its time to treat yourself to some hair extensions. If you're only going to need that extra length for this style, then clip-in hair extensions are best because you won't have to commit to a professional fitting and maintenance appointments. For those who are blessed with long natural locks, just miss out our next step!
Step Two:
Once you have your extensions, you'll need to brush them out thoroughly then begin fitting them to your hair. Now, we know, how can you possibly nail a slick ponytail without any clips from showing? But don't worry, we've got you! Start by grabbing a section of your hair at the crown of your head and tie into a ponytail, leave the rest down. Next, using small wefts of your extensions, begin to clip them around the ponytail until you have your desired length and thickness.
Step Three:
Now that you have plenty of long locks to work with, it's time to perfect that signature ponytail. Take the rest of your hair and place it into a ponytail around the extensions. If you have any bumps around the front, just grab your brush and neaten any loose areas. Tie your ponytail securely in place and pull a little to tighten.
Step Four:
To achieve the slick back look, you can either use a hair gel or hairspray to tuck away any of those annoying flyaway hairs. The secret to grabbing every little strand is to put your product on a toothbrush and use this to comb your hair back.
Step Five:
Now its time for the finishing touch! Grab a small strand of hair from the bottom of your ponytail, just thick enough to cover your hairband. Wrap the hair around the band and secure into place with hair grips. And voila, it's as easy as that!


Photo Credit: Allure
No one does the sleek look quite like Kim K, so of course, her gorgeous glossy locks needed to land a place in our favourite signature looks. Whether it may be a bob or low ponytail, you can always count on the Kardashians to bring you complete elegance, and even better, it couldn't be easier to recreate from the comfort of your home.
The secret is all in your choice of products as to achieve the perfect shine, your hair will need to lock in plenty of moisture. Luckily, there are tonnes of fabulous hair treatments which fill your locks with the hydrating goodness it needs, from hair oils to specially designed conditioner for hair extensions.
Now that you're all clued up on how to get that Kardashian-esque shine, its time to move onto how to recreate the ultra-sleek look:
Step One:
The easiest way to ensure that your hair works with you rather than against you is to create this style straight after washing. Hair that has been washed a few days ago would have been styled plenty of times, which means that its unlikely to cooperate. In jumping in straight from wet hair, on the other hand, you can blow dry your locks into place, boost both your staying power and most importantly, shine. So, our first step is pretty straightforward, freshen up those locks!
Step Two:
When brushing out your wet hair, you will need to section your locks into the perfect centre parting. The best way to do this is through using a fine-toothed comb, placing the comb just above your nose before following up through the hair and to your crown. If you have nano ring hair extensions fitted or any other bonded wefts, be super gentle at this stage to make sure that you do not catch any bonds.
Step Three:
Next, its time to blow dry – of course, starting with a spritz of heat protector! Then using a round drying brush, begin to blow dry your hair in sections from the root to the tip. You want to face the nozzle of your hairdryer downwards as this will help to smooth your cuticles, minimising stubborn flyaways.
Step Four:
Once your hair is dry, if it's still not totally as straight as you'd hoped, then you can use straighteners to smooth out any bumpy areas. As always when using any heated hair styling tools, be sure to keep the temperature lower and use protectant as the last thing we want is dullness and breakages!
Step Five:
All that's left to do now is to ensure that your locks stay sleek all day. Using a small amount of smoothing balm, slick the front of your hair back behind your ears. Again, if there are any stubborn flyaways, a little hairspray and a toothbrush will do the trick. Lastly, pin the section of hair behind your ears to keep everything in place!


Photo Credit: Hello! Magazine
There is nothing more effortlessly classy than perfectly "undone" beach waves, and we think that Blake Lively has completely nailed it as her signature style. From strutting the streets of New York to being snapped up on the red carpet, Blake takes beach waves from day to night, turning heads every time!
Now, with hundreds of curly hair tutorials circling the internet, how can you know which one to choose? It can be hard to find a balance between the tight ringlets you wore to your besties birthday party in year 5 and waves that drop the moment you step out the door. So what's the best way to perfect beach waves we hear you ask, take a look at the following steps:
Step One:
The key to beach waves is texture, so we'd always recommend freshening up your locks before attempting this style. The right shampoo and conditioner can make a world of difference, so it's important to pick those that will thoroughly cleanse your hair without stripping it of its natural goodness.
Step Two:
Once your hair is clean and brushed out, it's time to start drying. Using a quality hairdryer and your fingers, begin to get most of the water out of your locks so is damp rather than wet. Then grab a round drying brush and dry the hair from root to tip in different directions – this will help to keep it smooth and prevent frizz while maintaining texture.
Step Three:
Now that your hair is dry, give it a spritz of hairspray and then start to curl your locks using a wider barrel wand – the bigger the barrel, the looser your beach waves will be. You don't have to be too particular when it comes to curling, and you can go in different directions for a more natural feel.
Step Four:
Finish by very gently brushing your hair with a paddle brush before adding some shine with a tiny little bit of oil – too much and your curls will drop. If you're heading out for the day, then you may want to spritz the front with hairspray to keep everything looking flawless.


Photo Credit: Hairstyle.com
If you have been blessed with a full head of natural curls, then we can be sure that Zendaya is one of your style icons and we can totally see why! Her gorgeous ringlets always steal the show, and you'll be pleased to know that her secrets to curl perfection every time couldn't be easier. Through putting in place a routine that nourishes your locks with plenty of hydration, you can keep your curls defined and prevent waking up with a head of frizz. So, let's take a closer look at the hair care routine that Zendaya swears by:
Step One:
The first step to defining your curls is to freshen up, washing your hair and removing any dirt or built-up product. We recommend using products which include natural oils, whether this may be argan oil or coconut oil as this will help to restore a beautiful shine.
Step Two:
Once washed, its time to detangle. It's important to do this just after you have washed your hair using a wide-toothed comb that won't cause any tension on the scalp. Leaving your hair to dry without brushing will only cause your curls to fuse together and become matted, instantly losing definition. At this stage, you can also apply any leave-in conditioners or hydrating products that you adore.
Step Three:
Next, instead of using any old towel in the cupboard, you would most definitely benefit from investing in a microfibre towel as this will help to keep the cuticles smooth. Gently towel dry your hair using this until it is damp. You can then use a diffuser to finish drying your locks. If you're looking for more tips on the best ways to dry your curly hair without causing frizz, we suggest taking a look at Naturally Curly.
And in just three simple steps, you have perfected your curls just like Zendaya! For an extra top tip to keep your curls defined until your next wash, pop your hair loosely into a pile at the top of your hair using a scrunchie. You may also want to consider investing in a silk pillowcase as this prevents any friction between your hair and the fabric, keeping frizz at bay.

Photo Credit StyleCaster
When it comes to effortless, natural beauty, we do not need to look further than Meghan Markle. From travelling the world to attending events and even her very own Royal wedding, there is one staple that completes every outfit – her messy, yet elegant low bun. Much like the other signature styles in our guide, this updo takes a matter of minutes to perfect and complements every outfit choice, whether you are going smart or casual. So, follow these five simple steps to recreating the Dutchess' iconic look:
Step One:
So first things first, every messy bun needs to have wavy strands of hair effortlessly framing your face. This means that before you tie your hair back, you will need to put your hair into a middle parting and grab two small stands from the front – keep these separate from the rest of your locks.
Step Two:
Next, spritz your hair with a little hairspray to add texture and sweep the rest of your hair back to the centre of your neck. Tie your locks into a very loose ponytail and gently loosen the hair around the top and sides of your head.
Step Three:
If you have naturally curly hair, then feel free to ignore this step, but if your locks are more on the straight side, then you would benefit from working a little texturising balm into the end of your ponytail.
Step Four:
Now is the trickier part, separate your ponytail into two and twist the strands around each other. Then, gently loop the hair around the ponytail to create the loose bun. Simply secure into place using hair grips.
Step Five:
The last step to this beautifully effortless look is to use a curling tong to loosely curl the two strands which frame your face.

Photo Credit: Miss FQ
Total Glam, Without The Glam Squad!
Just because you do not necessarily have a glam squad of professionals on hand to take you from sleepy to flawless every morning, it most definitely doesn't mean that you cannot take inspiration from your favourite celebs. Perfecting your much-loved styles is all about practice, but we promise it'll be worth it!