There is no doubt about it, curling your hair can instantly make you feel all glammed up and sassy! However, not all of us have found the perfect way to curl our hair, and constantly putting heat on those luscious locks can have damaging effects. But fear no more, as Regal Envy is here to save your hair from a catastrophic bad hair day with eight of the best ways to curl hair perfectly!
Best Way To Curl Hair: 8 Different Tricks
There are many different ways in which you can curl your hair, and some methods are best suited to longer locks, and others to short and bouncy bobs. Curling your hair not only looks cute and pretty, but it can also give you that much-needed volume with a shiny finish. Whether you're looking to create some messy beach waves or a slick and polished finish, there is a curling method out there for you, and when you're equipped with the right hair products and hair styling tools, curling your hair takes just minutes! Why not give some of these methods a go:
Bonus Top Tips: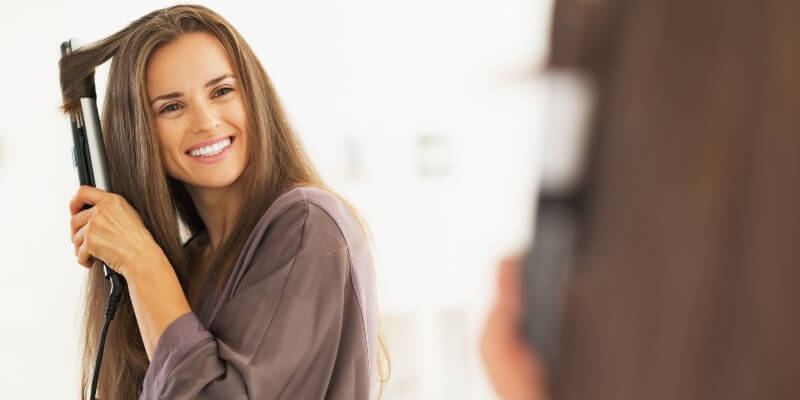 Approximate Time: 10 minutes
Tools Required: Straighteners or a curler
The alternative directions method works best on those with shorter hair, but looks just as stunning on those with hair extensions, especially if the hair has layers. This is one of the most popular hair curling methods, seen on most Hollywood a-listers and your favourite celebrities such as Khloe Kardashian. The method works by using a straightener or a curler to gently curl the hair by curling towards your face, and then away from your face in an alternating motion. It can create cute curls or sassy beach waves depending on how big the barrel is and how long you apply heat. The video below will explain this method in a lot more detail:
Approximate Time: 3 minutes
Tools Required: Straighteners
How To Curl Hair With Flat Iron
If you're looking for a hassle-free routine that is easy to follow and makes effortless curls an easy task in the morning, then you're going to love curling your hair with straighteners. Using straighteners to create your luscious curls is one of the most common ways to sass up and volumise with ease, yet many struggle to create harmony between the curls and often end up with a tangled mess. If you are aiming to create larger and looser curls in just 3 minutes, then a flat iron is going to be your best friend! It is important to remember that if you purchase a good quality pair of straighteners, then you do not need to put them on a high temperature, as this can damage your hair. You should also treat yourself to a good quality heat protector to avoid any damage to your luscious extensions. Take a look at Shelley Elizabeth's easy technique and give it a go yourself:
Approximate Time: 7 minutes – 1 hour
Tools Required: Flexible rollers and a hairdryer if you don't have a lot of time!
How To Curl Hair Without Heat
Flexible rollers can be found anywhere, and you can even DIY some of your own, making it a very cost-effective way of curling your luscious locks. The great thing about flexible curlers is that you can choose to add heat or not, depending on how much time you have to spare. Start by dampening your hair using sea salt spray and then take sections of your hair, keeping in mind that smaller stands will create smaller curls, and wrap it around the curler. Once fully wrapped around the curler, secure the hair by twisting and folding the ends of the curler. You can then either sit and wait for the hair to dry, or use a hairdryer until the hair has fully dried. Remember to leave the hair to cool down before unravelling the strands. Why not try following the video below?
Approximate Time: 5 minutes
Tools Required: Curlers and scrunchie
How To Curl Long Hair
If you have hair extensions fitted to give you luscious long locks, then the ponytail trick is going to be an easy way to create curls without struggling to reach the ends. This technique is going to change your morning routine, as well as give you the chance to hit that snooze button a few more times. You are going to need a good quality curling wand for this technique, as you will be heating larger sections of hair once it is up into the ponytail. All you will need to do is pop your hair up in a scrunchie – this will work better than a hairband as it won't leave dents – and then section off the ponytail into three or four sections and curl the whole section in one go. Once you have curled the hair, take it out of the scrunchie and run your fingers through the curls, and ta-dah, you have stunning curls!
Approximate Time: 4 minutes in the morning, slightly longer before going to bed
Tools Required: Long socks
How To Curl Your Hair Overnight
For those of you that are slightly more protective over your hair, applying heat may not be something that takes your interest. Luckily, there are numerous ways in which you can still create effortless curls without damaging your hair. The sock method is one of the easiest and most comfortable ways you can form curls in your hair, and can be done before bed or in the morning if you have enough time. All you will need to do is slightly dampen your hair before wrapping it around a sock. You can keep the hair in place by tying the sock into a not or placing a pin/hairband around the end. This method works best when you do it the night before and sleep on it, as the curls come out better, last longer and give you more time to do your makeup in the morning. However, you can choose to use this method in the morning by following the same process and leaving it in for an hour or so while getting the rest of yourself ready. For more information and instructions on how to master this technique, take a look at the video below:
Approximate Time: 30 minutes – 1 hour
Tools Required: Hairdryer, bobby pins and a hair extensions brush
How To Pin Curl Hair
We all love that Hollywood wave and 20's goddess look, but how do you create this wonderful curl? There is a simple solution that can be done before you go to bed or in the morning if you have an hour or so to spare. Pinup curls are the traditional way of curling your hair; you may have even heard of pinup girls who were American models in the 40s that, as you can guess, used to have pinup curls! So, how do you create these curls on your own hair? There are two ways you can do this, with a curling iron or with a bit of water; the choice is yours. The first way is to curl your hair with a curling iron and then pin the hair up in the same position as the curl to allow it to cool – this is a great way to enjoy your curls for longer! Alternatively, you can slightly dampen your hair and then use two fingers to wrap the hair around and then pin it up in that position. You can then use a hairdryer to dry the hair and then leave it to cool, but if you have some time, we recommend leaving it to naturally dry to avoid any damage.
Approximate Time: 5 minutes
Tools Required: Big barrel curler
How To Curl Hair With A Curling Iron
Now, this technique is very straightforward and follows a similar method to the ponytail trick. All you will need to do is section your hair into 6-8 sections depending on how thick your hair is, and curl each section as one. Once you have curled the hair, simply run your fingers through the hair to separate the curls, and you should have some big and voluminous locks! We would highly recommend using a large barrel curler for this technique, as it gives you a beachy goddess vibe. You can even finish off the look by spritzing in some sea salt spray to complete the full messy wave look. Take a look at the YouTube video below for more techniques and advice on how to use this method:
Approximate Time: 5 Minutes
Tools Required: Small barrel curlers
How To Curl Hair With A Curling Wand
While small barrel curling wands are usually used for tight and more defined curls, they can be used to create big and voluminous ones when using the right techniques to do so. The way to think about it is that the smaller strand of hair you wrap around any size barrel, the tighter and more defined the curl will be. If we follow this theory, then wrapping a big strand of hair around a small barrel will create large curls. The bigger the strand of hair, the larger the curl will be, and you can even create ringlets in the curl by using a small barrel. So, all you will need to do is wrap large amounts of hair around a small barrel curler to achieve cute big ringlets like in the video below!
Sometimes curling your hair can be a complete hassle; it takes time and effort depending on the thickness and texture of your hair, and this may result in the curls quickly unravelling and falling out. Our experts in hair products and everything there is to know about hair have got your back with our top tips for keeping curls in your hair! These include:
Hairspray
A well-known and favourable technique to keeping curls in your hair for as long as possible is spraying with hairspray; it is no wonder it is such a favoured tip and trick: it works exceptionally well. Hairspray can come in different strengths, depending on the texture of your hair and how likely it is to hold the shape, meaning you can find the right strength suited to you and your hair type.
Hold the can a short arm distance away from your hair so that the spray falls in a mist, rather than focusing on one area of your hair, as this will make your hair crunchy and heavy. Wave your arms around your head and hair, making sure you reach all regions and all curls to ensure all of them stay in place!
Cool Down
One of the best tips we can recommend is to allow your hair to cool down whilst it is still in the curl, as this will ensure that your hair's cuticle has closed after the loop has cooled, which effectively helps the curl keep its shape. This also works when curling your clip-in hair extensions, making it a versatile and handy trick for everyone. A lot of hair dryers have a 'cool' button on them, have a go at pressing this and drying your curls whilst they're still up, which is a perfect tip for those people who want to curl their hair in no longer than 15 minutes tops!
Time And Place
It is important to know that a specific time works for keeping the utmost perfect curls for your hair, ones that last for as long as possible! We recommend curling your hair 1 or 2 days after your hair wash day as straight after washing, most people's hair becomes too soft for the curls to hold their shape, whereas, after multiple days, the natural oils made by your hair will provide the right texture needed for your curls to hold their shape naturally and not fall out quickly. If you're worried about the grease build-up two days after your shower, try using some dry shampoo after curling your hair to create some volume and a fresh look whilst being able to hold the curls naturally.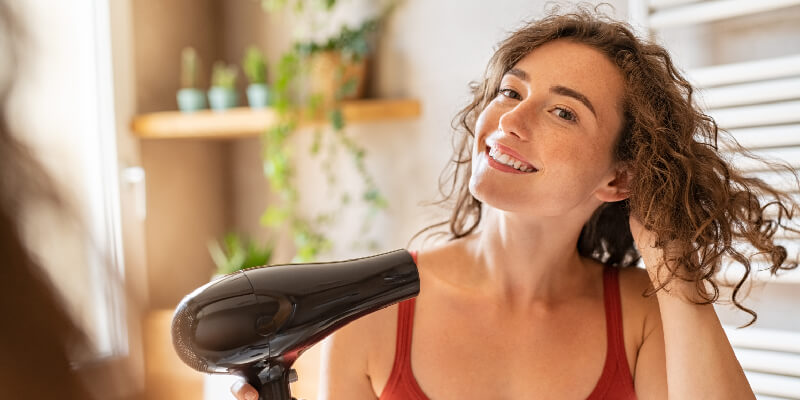 Perfecting Your Curl Appeal
Everyone only dreams of the perfect wave or voluminous curls, but very few know that it's not actually that hard to achieve once you've mastered the technique. With the right method and hair products, we're sure that it won't take you long to perfect your curl and sass up the streets, and no one has to know that it took you only a few minutes to achieve!
If you are using heat on your extensions, always remember to pop on some heat protector, and after washing your hair with our shampoo for hair extensions and conditioner for hair extensions, add some oil for hair extensions. For more information on hair extensions and the perfect shampoo for them, take a look at our previous article or contact us for more help and information!