If you have short hair, clip-in hair extensions will be your best friend in helping you achieve the perfect length and volume. However, one thing that can be a little tricky is blending the clips in your natural locks, making sure that they aren't visible and your extensions look just as if you have spent the last ten years growing your locks. But not to worry, as always, your Regal Envy hair gurus are here to save the day. Take a look at our super-easy guide on how to hide hair extensions in very short hair, including the most common mistakes to avoid.
How To Hide Hair Extensions In Very Short Hair: Top Tips & Mistakes To Avoid
As experts in all things hair extensions, we recognise how frustrating it can be to spend ages fitting your weft to find the clips poking out or feel that they are uncomfortably pulling at your scalp. If you have short hair, this can make life even harder as your locks will be a little more prone to breakages and less adherence, so clipping in wefts will require far more care. But this most definitely doesn't mean you cannot enjoy beautifully long, thick and voluminous locks. So, without further ado, let's take a closer look at the following: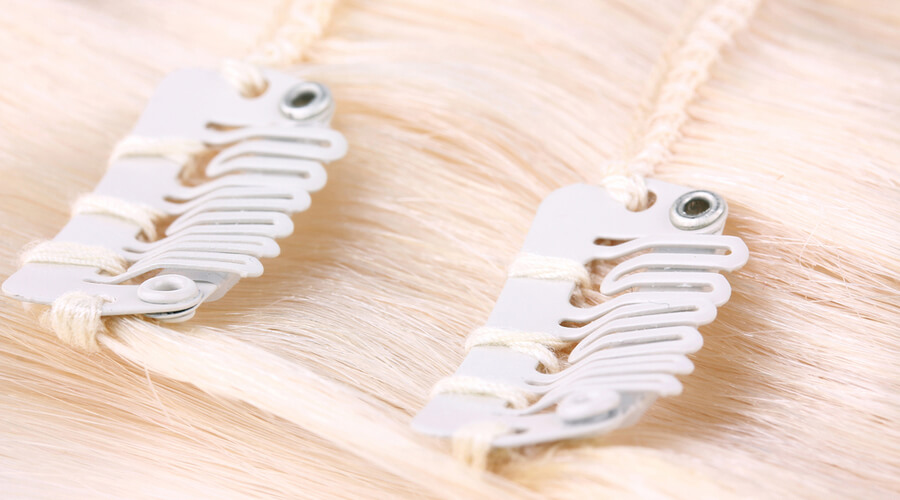 Let's start from the very beginning with how to fit your clip-in hair extensions. The secret is to ensure that your natural locks are prepped correctly; follow these easy steps, and we promise that your clip-ins will stay secure all day.
STEP 1: Section Your Hair
Begin by sectioning your hair into a top and bottom section; the bottom should be from the nape of your neck to the top of your ear.
Leave the bottom section down and gently twist the remaining top section into a bun onto the top of your head.
STEP 2: Prep Your First Section
Plait the bottom section of hair and tie it with a clear elastic band. The plait doesn't need to be overly tight but should be securely braided to handle some weight.
Twist the plait around itself tof create a bun and secure it with bobby pins; this will help keep the extensions in place.
STEP 4: Fit Your First Weft
Fit your first weft, starting with the middle clip just above your plaited bun. Secure the two side clips behind your ear.
Top tip: Always use your hair extension brush to detangle your wefts before you clip them in to avoid pulling at your natural locks.
STEP 5: Apply Your Remaining Wefts
From here, you can move on to fitting your remaining extensions. Section your hair around one inch upwards from the last and secure your clips in place. Don't worry about plaiting these sections, but instead, focus on hiding each clip with the next section.
The order in which you fit wefts is based on the number of clips. Any five clip extensions should be used on the widest part of your hair, and then two or three clip wefts can be used towards your crown.
If your hair is both short and thin, it may feel as if clip-in extensions are a no-go, but don't panic. With these seven steps, you can perfect your technique in no time.
Step 1: Choose The Right Extensions
So first things first, before you can even consider perfecting your technique, you will need to determine the right clip-in hair extensions for you. The beauty of clip-in extensions is that they are available in different lengths and weights, meaning that it couldn't be easier to choose those that will transform your locks without causing any damage.
For short and thin hair, we would recommend going for our 100g clip-in extensions as the 150g wefts may feel slightly too heavy and potentially pull at your roots. Our 100g clip-in extensions are available in 18 and 22 inches, depending on how long you want your locks to be. As a guide, 18-inch extensions will reach around the middle of your back, and 22 inches will be just above your waist – this part is all about personal preference!
Step 2: Create A Base For The Wefts
Once you have purchased your clip-in extensions, it's time to try fitting them for the first time. The key to success is creating a solid base for the wefts, which will not only help them to stay secure but also camouflage the clips. It will also stop the clips from tugging at your hair, which can get super uncomfortable.
To do this, each time that you section your hair to clip in a weft, spray a small spritz of hairspray onto the root then tease the hair using a tail comb. Tail combs are great because they are typically fine-toothed, meaning that you can tease your hair without causing damage.
Step 3: Find Your 'Safe Zone'
By far, one of the most important steps of fitting your extensions in thin hair is finding your 'safe zone'. This is the section of hair where the clips will not be seen, any higher than this 'safe zone', and you will not have enough natural hair to hide the clips. Typically, your 'safe zone' falls in any section below your eyebrows, so to find it, simply follow the line from beneath your brows around to the back of your head. The hair underneath this line is where you will clip in your extensions.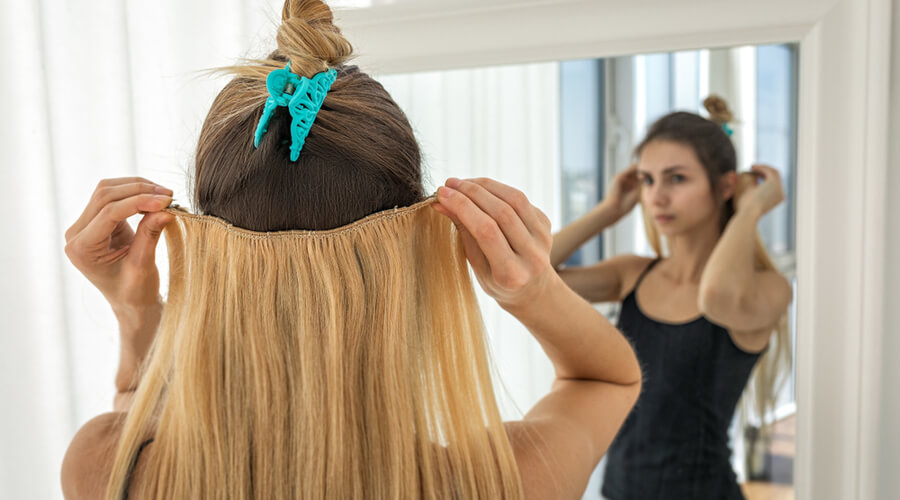 Step 4: Decide On Your Weft Positioning
Before starting to clip in your extensions, you will benefit from experimenting with different weft positionings. The last thing you want to do is section out your entire hair, prep your extensions and tease the root to find that the weft doesn't quite look right in that position. As everyone has different hair types and head shapes, this may take a little trial and error. As your hair will be slightly thinner, you'll need to pay careful attention to positions that will have plenty of natural hair to go on top of the wefts to cover the clips.
Step 5: Prepare Your Wefts
Once you have an idea of where to place your wefts, you'll just need to quickly prepare them before starting to clip in. The same as above, use your hair extension brush to get rid of any knots.
Step 6: Tease The Hair On Your Crown
Now that you have all of your wefts clipped in and your locks are looking beautifully long and voluminous, you've probably found that the top of your hair is looking a little flat. This is completely natural, as you will have far more hair at the bottom of your head compared to the top, but don't panic! Just as you did when creating your base, using your tail comb, gently tease the natural hair on your crown. This will help your extensions to blend seamlessly with your hair, creating an overall more voluminous look. If you're not too sure how to tease your crown without looking like you have a bird's nest on your head, take a look at All Things Hair for a super easy step-by-step guide!
Step 7: Finish By Styling Your Hair
Here at Regal Envy, all of our extensions are made from 100% human extensions, whether you opt for our clip-ins or buy stick tip hair extensions and get them professionally fitted. This means that they can be styled just as you would do so your natural locks! With your new gorgeously long mane, the style opportunities are endless, but for those with thin hair, our favourite is a soft curl. Through curling your extensions in with your natural hair, they will be so much easier to hide, perfecting your blend. Be sure to pick sections that combine both your hair and extensions, then curl these together. For the best way to curl your hair, why not check out our previous article?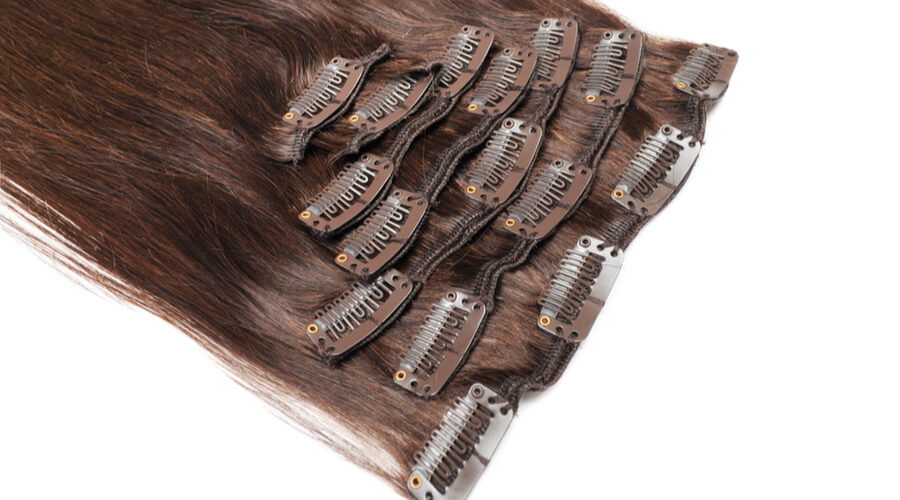 If you are new to the world of hair extensions, then it's likely that you're expecting just to pop them in and head off for your day, right? Well, it may take a little more practice to get your technique right, but we promise it'll be worth the dedication. For those who are finding it a little trickier than expected to perfect their technique, here is where you might be going wrong:
Mistake 1: Clips Are Too Close To The Scalp
Many assume that for their results to look natural, they need to clip their extensions as close to the scalp as possible; however, this isn't the case, especially with thin hair. Instead, position your clips just a little further down, as this will allow more movement in your extensions, helping the results to look more natural. It will also stop any tension on your scalp, which can leave your head feeling tender when you eventually remove your clip-ins.
Mistake 2: Clips Are Too High On The Head
Let's take a look at, by far, one of the most common mistakes – attempting to blend your wefts when they are clipped too high on the head. If your hair is naturally thin, it is likely that most of it is nearer to the nape of your neck, which means that it will become impossible to hide your clips. Not only this, but your hair will also look choppy rather than blended.
Mistake 3: Clipping Onto Freshly Washed Hair
Nothing is better than freshly washed hair, but when you're trying to secure clip-in hair extensions, you're likely to have a battle. Weft clips can slip, especially on thinner, finer hair, so you need a little texture to allow them to grip. If your hair is squeaky clean, you will need to add a few more steps to your routine to keep your extensions in place. These include the tips mentioned above – adding a little hairspray and teasing the hair. When you reach second or third-day hair, when oil and product have built up a little, you'll find the clips grip far easier.
Mistake 4: Attempting To Use Too Many Wefts
Yes, as much as we hate to say it, there is such a thing as too much hair! If you have recently treated yourself to new clip-in extensions, it can be tempting to use every last weft but don't feel the pressure to wear as many wefts as possible all at once. Some people may only need two wefts, and others may wear four; it's all about what looks and feels best for you. If you have any questions about how many wefts to buy, please do not hesitate to ask our Regal Envy hair gurus for advice!
At Regal Envy, we understand the sheer frustration you feel when you have your long, luscious hair extensions and want to put them into a celebrity-style ponytail, but you cannot seem to get it seamless! So we have gathered our top three tips on how to hide hair extensions when putting your hair up; these include:
1: Start with dirty hair
Working with hair that's a bit less than fresh can be a game-changer when it comes to styling hair extensions; it allows you to have advanced grip and texture instead of having a sleek, greasy look that does not do well at hiding extensions.
For those who prefer maintaining clean hair with our shampoo for hair extensions and want to use a substitute instead of not washing your hair for a few days, then we recommend using a texturising spray, hairspray or even dry shampoo.
These alternatives offer the same benefits of enhanced grip and texture, allowing you to expertly style your extensions without compromising on your desired look.
2: Strategic placement
As you gather your hair up into an up-do with our hair extension brush, pay close attention to smoothing and adjusting the extensions to align with your natural hair.
This meticulous step is crucial in achieving that seamless blend we're aiming for. When pinning and securing your up-do, incorporate the hair extensions into the style by positioning them beneath the natural hair, which will help to camouflage the extensions and maintain a natural look.
It's important to maintain a gentle touch throughout; refrain from pulling your hair too tightly. Although a tight hold might feel more secure, it can inadvertently reveal the extensions, leading to an uneven and less polished result.
3: Finishing touches
When you have created your up-do and are happy with the overall look, fully secure all the hair and ensure no attachments are uncovered by using bobby pins, hairpins and clear hair ties! We recommend gently tugging on some sections of your hair to add natural looseness and create a more relaxed look.
A finishing touch of hairspray is essential to set the hairstyle, providing both lasting hold and ensuring that your extensions remain discreetly concealed from morning till night.
It wouldn't be a Regal Envy guide without some last top tips from our experts, so here are our secret hacks for blending your clip-in extensions with thin hair:
Tip 1: Hiding Those Little Baby Hairs
If, like many of us, you have those short strands of hair along the nape of your neck, this one is for you. Your baby hairs can often make it obvious you are wearing extensions, but there is a super-easy way to hide them – introducing 'the twist'.
Simply begin twisting your shorter hair, starting from one ear and working your way to the other, then use a bobby pin to grip the twist into place. Not only does this disguise your baby hairs, but it also gives you a base to clip your first weft, as mentioned in our steps to fitting extensions in short hair!
Tip 2: Blending Your Layered Locks
For those with layered hair, you may find it trickier to blend your extensions because they are different lengths than your natural locks, but don't worry. Next time you visit your trusted hairdresser for a haircut, why not take your extensions and get them styled too? Your hairdresser can clip in your extensions and then cut all of the hair at once; all you will need to do is remember what order they are clipped in your hair when you next take them out.
If you are looking for a new reputable hairdresser to transform your look, we suggest booking a consultation with Lacy Locks! Lacy Locks are also award-winning extensionists, so if you buy nano tip hair extensions with us, you can head over to their salon to get them fitted.
Tip 3: Don't Like Backcombing? Crimp Instead!
Earlier in our guide, we mentioned teasing your hair to create a base for your wefts, but we know that not everyone is a fan of backcombing. If you are nodding your head in agreement, then we have the perfect alternative – crimping! The purpose of teasing is to add texture for the clips to grip, but this can also be achieved by crimping the section of hair nearest to the root.
Tip 4: Care For Your Extensions To Make Them Last Longer
By using the appropriate hair treatments, you can maximise the longevity of your extensions. When it comes time to wash your hair (we suggest doing so every few days), we recommend selecting a product from our range of shampoos for hair extensions. We offer both an ultra-convenient dry shampoo and a deep-cleansing clarifying formula, meaning that you can switch up your routine depending on your schedule and hair needs. After shampooing, you can lock in moisture with our conditioner for hair extensions. To then withhold the upkeep of your hair extensions, why not buy our oil for hair extensions for extra luscious, healthy locks?
Needing Extra Hair Inspiration?
Sign up to our newsletter for the best hair tips and tricks!
And Just Like That, You Have Perfected Your Technique!
There is nothing more exciting than your brand new clip-in hair extensions arriving at your doorstep ready to be fitted! While the prospect of installing them for the first time can be daunting, with our handy guide, you will perfect your seamless extension-fitting routine in no time. Blending your extensions with shorter or thinner hair is all about patience; believe us when we say that practice really does make perfect. By experimenting with a few different techniques before heading out with your new luscious locks for the first time, you will be able to perfect your methods and never look back!